When it comes to job hunting, a crucial component of a successful search is an effective cover letter. However, crafting such a letter can be a daunting and time-consuming task. Luckily, Google Docs offers a solution in the form of ready-made cover letter templates that can help streamline the process and increase your chances of success.
In this article, we will delve into the fundamentals of utilizing these templates, offering tips and recommendations for beginners. We will also provide examples of existing templates and demonstrate how to edit and export them for maximum impact. If you're looking to create a truly professional cover letter, whether you're a seasoned professional or just starting out, then this article is meant for you.
Utilizing Cover Letter Templates in Google Docs: An Overview
Step 1: Selecting the Ideal Template
When it comes to choosing a suitable cover letter template in Google Docs, several factors must be taken into consideration:
such as the industry;
position;
formatting style that best suits both your personality and the job in question.
For instance, in the marketing and advertising field, selecting a professional cover letter template that demonstrates your ability to effectively promote products and services can be an ideal choice. Similarly, for web development, a template showcasing your technical expertise and experience in website development may be the best option. In the education sector, a cover letter template tailored to teachers, highlighting your teaching experience and pedagogical approach, can be highly effective.
Step 2: Customizing Your Template
Once you have selected a suitable template, it's time to customize it to your specific needs. The first step is to replace the header and introductory paragraph with your name, company name, and your motivation for the position.
Most cover letter templates in Google Docs come equipped with headings and instructions that can guide you in filling out their contents. You can personalize your letter further by changing the font, size, and color scheme. Additionally, you can add logos, photos, and other design elements that can enhance the overall impression of your letter.
Step 3: Saving and Exporting Your Template
After you have customized your cover letter, it's essential to save it in your Google Docs account. You can choose to save it on your computer or export it to other file formats, such as PDF or Microsoft Word. Saving your letter in PDF format can help preserve its formatting and prevent any unexpected changes when viewed on other devices or computers.
To learn more about how to save your Google Docs templates in PDF format, we recommend checking out this article:"How to convert Google Docs format to Microsoft Word, PDF, and any other?"
The Advantages of Using Free Cover Letter Templates in Google Docs
Employing free cover letter templates in Google Docs provides several advantages, including:
Time and Effort Saving
The primary advantage of ready-made templates is that they save time and effort. Instead of investing a significant amount of time crafting a cover letter from scratch, you can utilize a pre-existing template and rapidly adapt it to your specific needs. This is particularly useful for those seeking positions in various industries or companies, where different information and styles are required.
Professional Appearance
Cover letter templates for Google Docs often boast a professional design and balanced style. Employing such a template can help make your cover letter more appealing and professional. This is especially significant for those pursuing careers in industries where appearance and design are essential factors, such as marketing, advertising, and design.
Convenience and Ease of Use
Using cover letter templates Google Docs is highly convenient and straightforward. You can effortlessly locate and select suitable templates, then customize them to your specific needs. Furthermore, Google Docs provides an extensive range of tools for editing and formatting text, making the process of creating a cover letter even more convenient and straightforward.
Tips and Recommendations for Using Google Docs Cover Letter Templates
How to Select the Most Suitable Template
When seeking a cover letter template on Google Docs, it is crucial to choose one that corresponds to your industry and position. Some templates may be more formal, while others may be more creative. Select the one that best fits your profession and the company where you aspire to work.
What Elements to Include in a Cover Letter
An excellent cover letter should contain several key elements, including:
Your name and contact information;
Company name and employer contact information;
Your motivation and interest in the job;
Your work experience and qualifications;
Closing paragraph with a request for an interview.
Incorporating these elements will aid in crafting a professional cover letter that will pique the employer's interest.
What Style to Utilize in a Cover Letter
The style of your cover letter should align with the position you are seeking. If you are pursuing a job in a more conservative industry, such as finance or law, your cover letter should be more formal and professional. Conversely, if you are applying for a job in a creative industry, your cover letter can be more informal and creative.
How to Avoid Mistakes in a Cover Letter
Errors in a cover letter can cost you an interview. Thus, it is vital to review your document for grammatical and spelling errors. Utilize the spelling and grammar check in Google Docs or other programs to ensure your cover letter is error-free.
How Not to Use the Same Cover Letter for All Employers
Using the same cover letter for every employer can have negative consequences. Your cover letter should be personalized and tailored to the specific position you are applying for. Conduct research on each company to comprehend what they are seeking in their candidates and highlight this in your cover letter.
What Mistakes to Avoid When Using Templates
When employing Google Docs cover letter templates, several errors should be avoided, including:
Using the same template for every company. Customize each cover letter for a specific company to demonstrate your interest and motivation.
Failing to modify the template. Altering fonts and colors can make your cover letter more distinctive and appealing to employers.
Using inappropriate templates. Not all cover letter templates are appropriate for every industry and position. Select the template that best matches your unique situation.
Examples of Ready-Made Cover Letter Templates for Google Docs
| | |
| --- | --- |
| Industry | Cover Letter Templates |
| Business, Marketing, and Advertising | 1. Professional Cover Letter Template. 2. Interactive Marketing Manager Cover Letter Template. 3. Business Cover Letter Template. |
| Web Development | 4. Freelance Web Developer Cover Letter Template. |
| Education | 5. Teacher Cover Letter Template. |
| Finance and Accounting | 6. Simple Cover Letter Template. 7. Financial Accountant Cover Letter Template. |
| Medicine | 8. Nursing Cover Letter Template. |
Best Cover Letter Templates for your Industry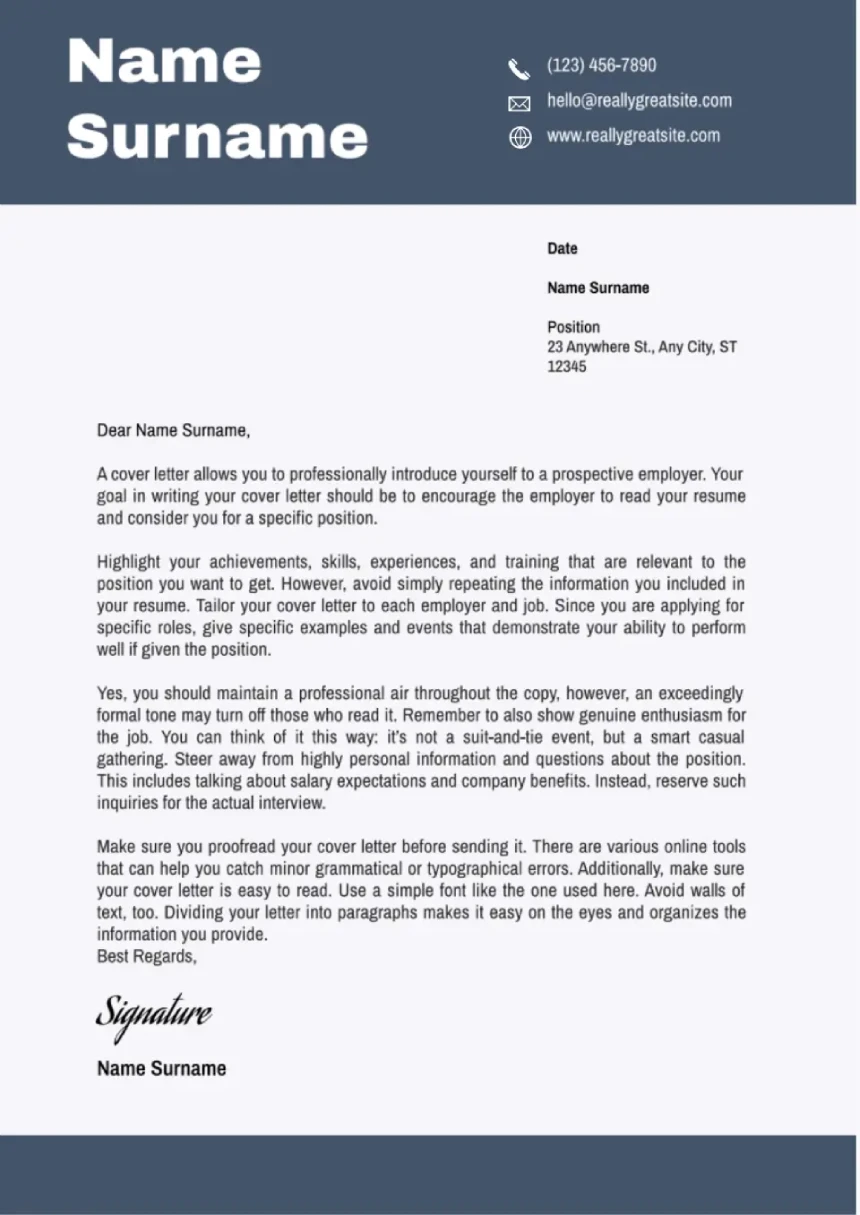 This template's professional design and strict composition allow candidates to make a good first impression. It includes general information blocks such as contact details but also allows customization of the content to match the specific position or company you are applying for.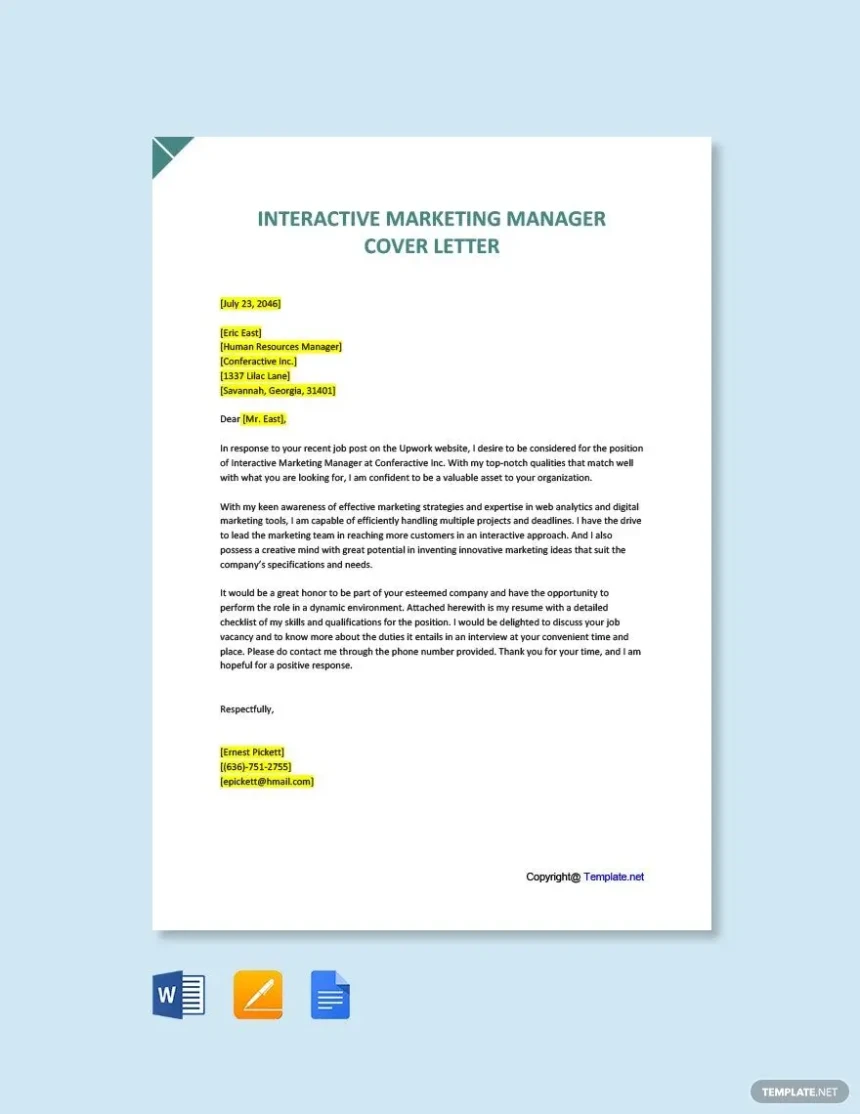 This template is ideal for those applying for a position as an interactive marketing manager. It features a modern design and enables you to emphasize your skills in digital marketing, including the use of social media, web analytics, and much more.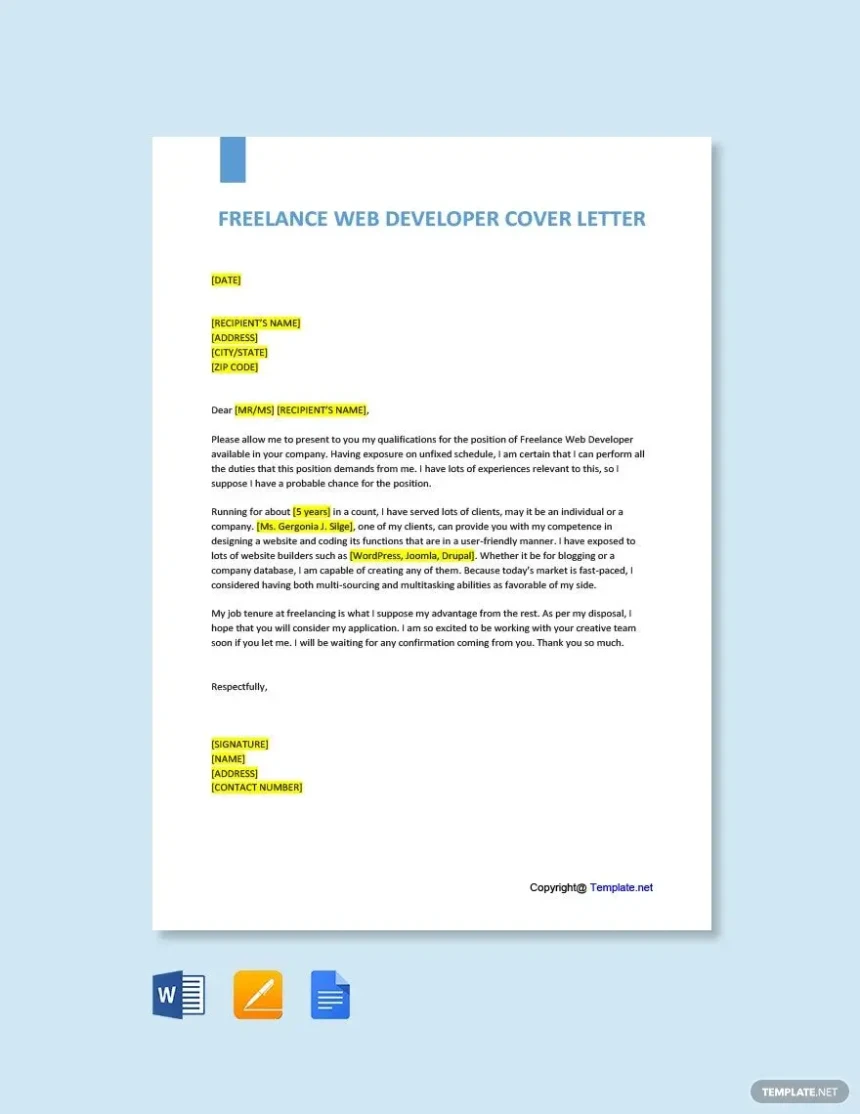 This template is perfect for web developers who want to demonstrate their technical skills and experience in the field. It includes design elements related to web development and makes it easy to describe projects you have been involved in and how you utilized your skills to achieve success.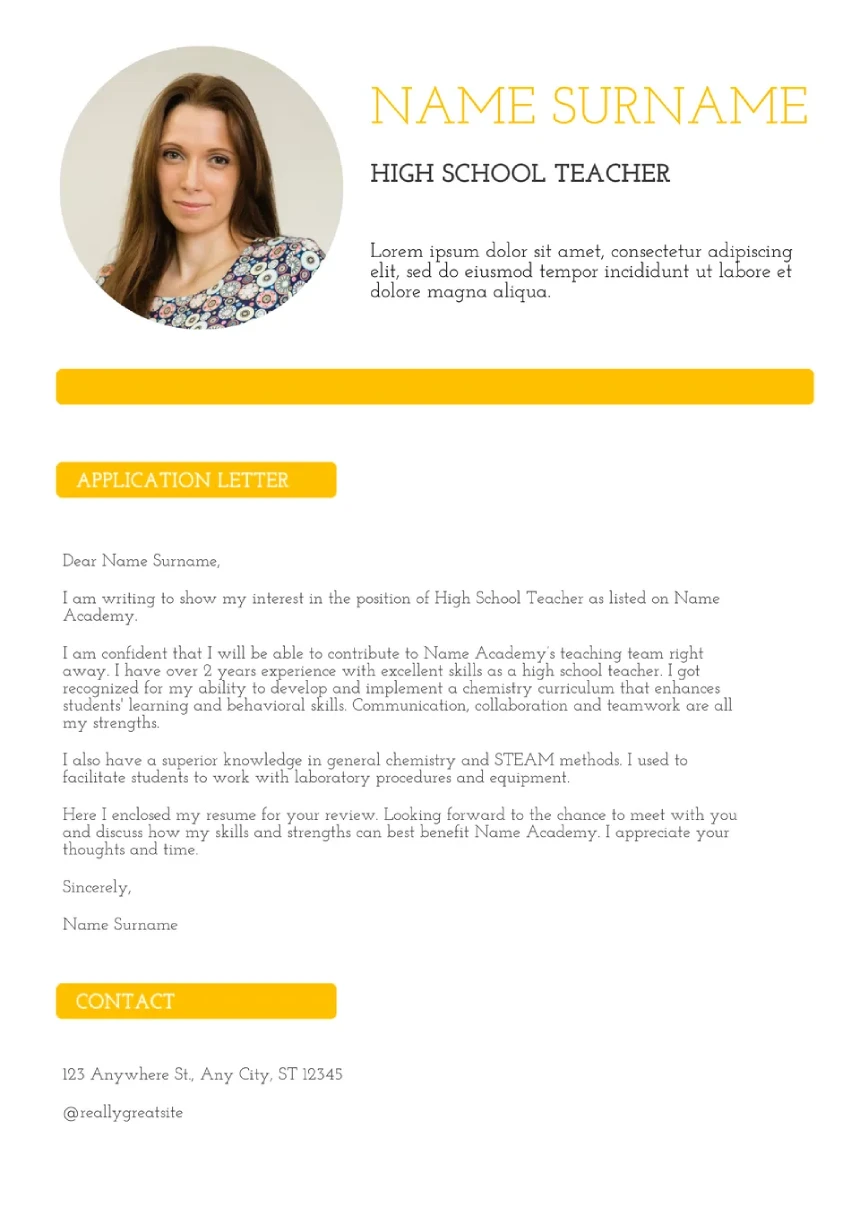 This template is suitable for teachers of all subjects and levels. It includes design elements related to education and enables candidates to describe their experience and education in the field of teaching. The template also makes it easy to personalize your letter to match the specific school or institution you are applying to.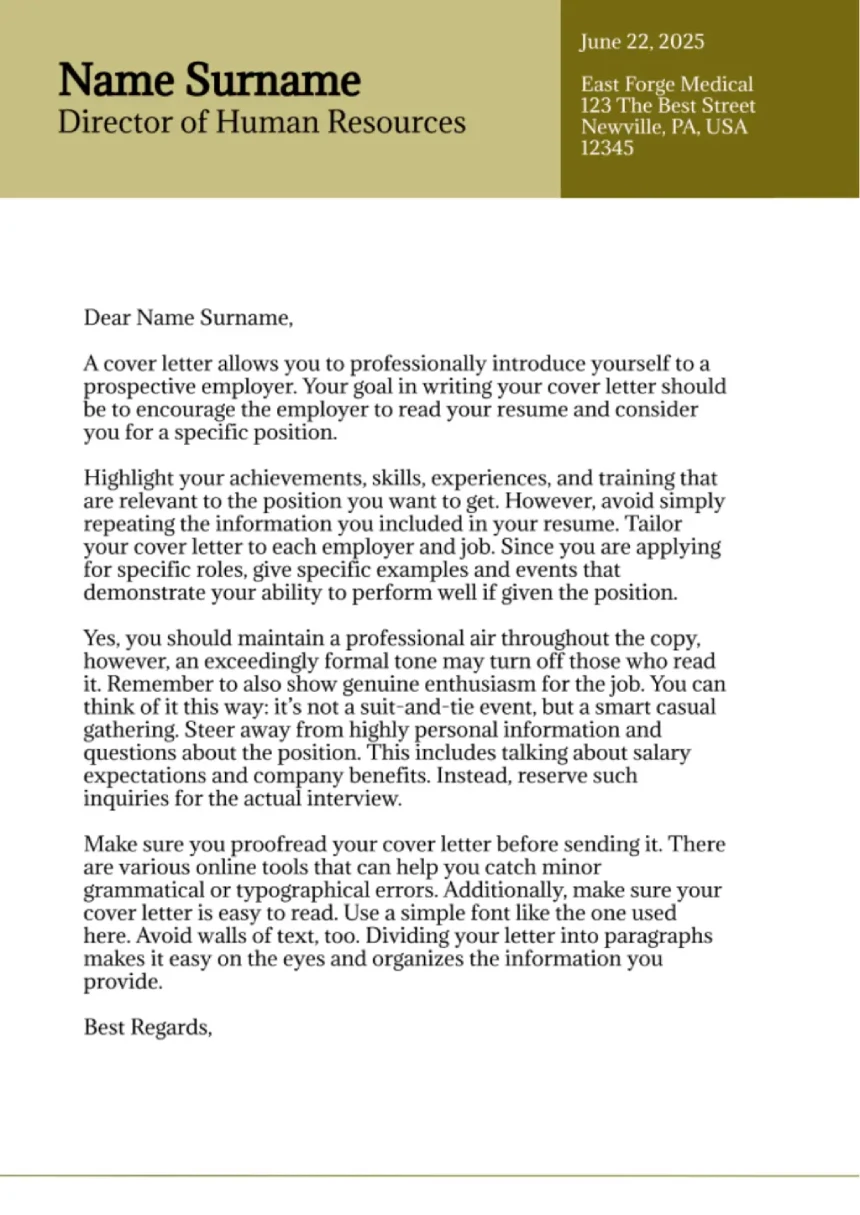 This template is ideal for those who want to emphasize their professionalism and minimalism. It includes minimal design elements and focuses on the content of the letter. This makes it perfect for those who want their candidacy to be based on their experience and qualifications rather than the appearance of the letter.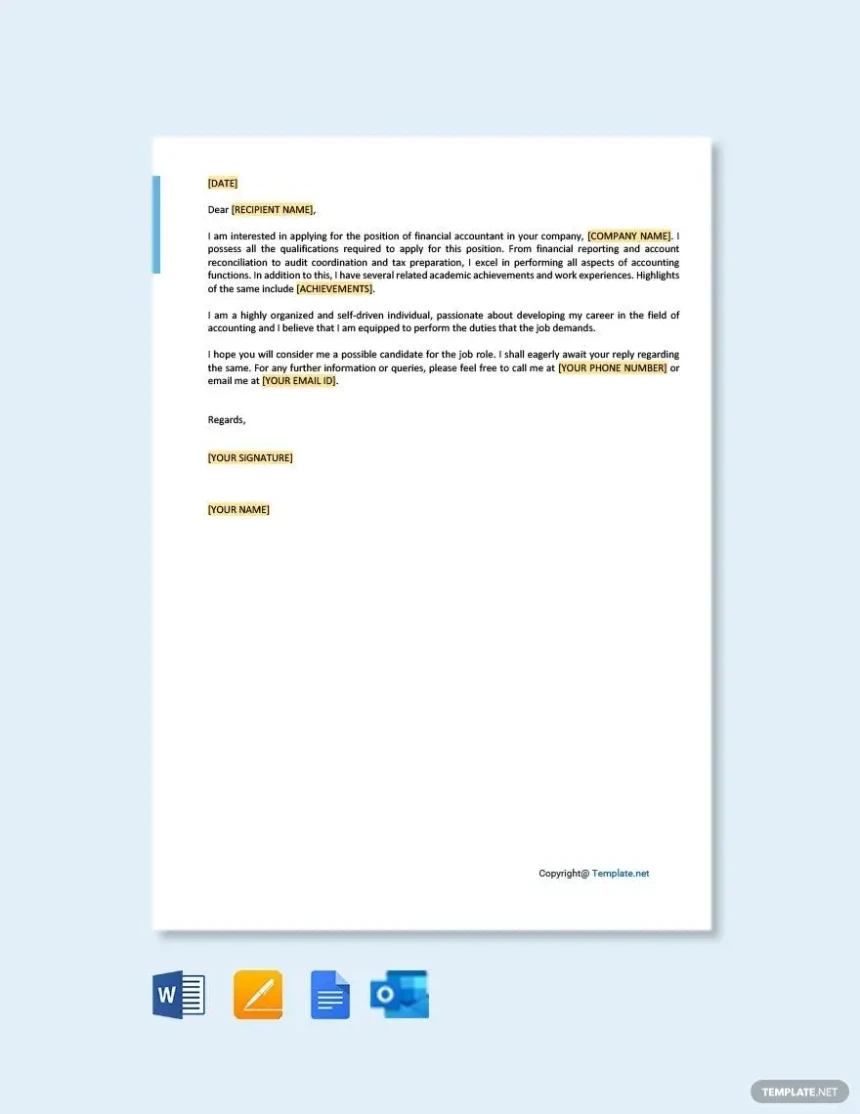 This template is suitable for candidates applying for a position as a financial accountant or auditor. It includes design elements related to accounting and financial reporting and makes it easy to describe your experience and knowledge in this field.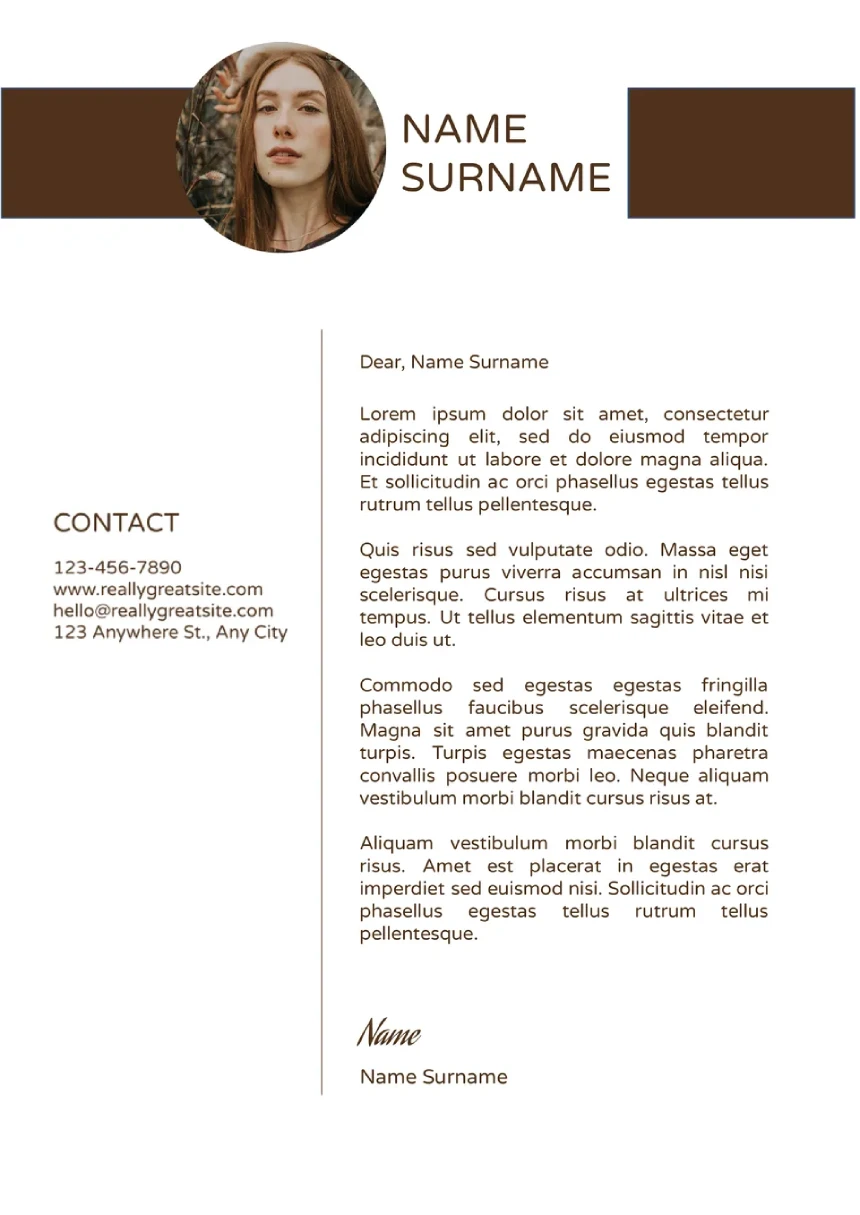 This template is suitable for healthcare professionals applying for a position as a nurse or other healthcare position. It includes design elements related to medical procedures and makes it easy to describe your experience and knowledge in the field of medicine.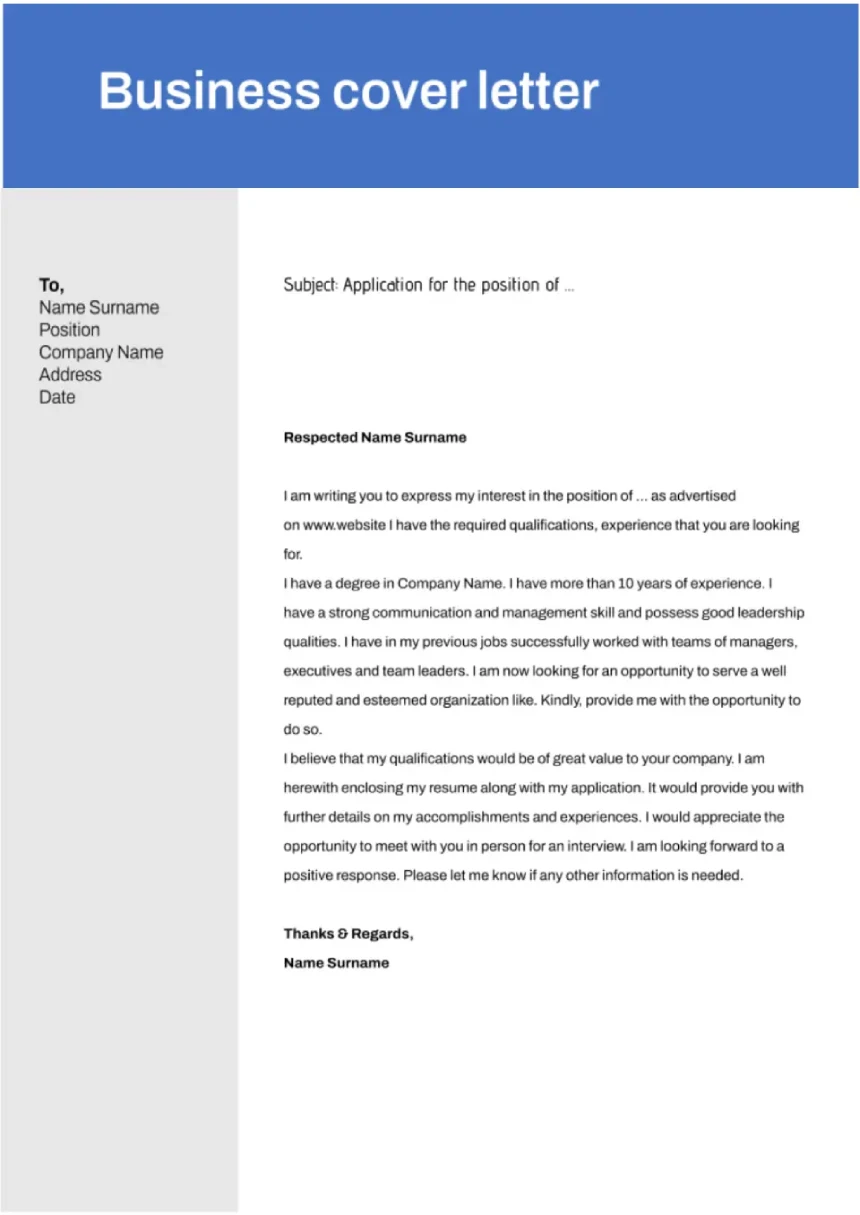 This template is suitable for candidates applying for managerial positions in the field of business. It includes design elements related to business processes and makes it easy to describe your experience and knowledge in the field of management and leadership.
Examples of Editing Templates
Editing cover letter templates in Google Docs is easy and intuitive. You can effortlessly modify the text, sizes, and colors to personalize your cover letter and make it attractive to potential employers. As an example, let's look at how to modify a cover letter template for a marketer:
Change the header to "My Qualifications in Marketing";
Add a section for "My Experience in Advertising";
Change the font to a modern and readable one;
Include your logo or photo.
These examples can assist you in understanding how to modify a cover letter template for your particular situation.
In conclusion, using free cover letter templates for Google Docs can be a valuable tool in your job search. By taking advantage of the templates' professional design and structure, you can create a cover letter that is not only attractive, but also showcases your qualifications and motivation for the position you are applying for.
When using these templates, it is essential to keep in mind the industry and position you are applying for, as well as the style of the template that best suits your personality and the position. By customizing the content and design elements to your specific needs, you can create a free cover letter that stands out from the rest.
We hope that this article has provided you with useful tips and recommendations on how to use cover letter templates in Google Docs. If you have any questions or feedback, please do not hesitate to contact us for assistance. Best of luck in your job search!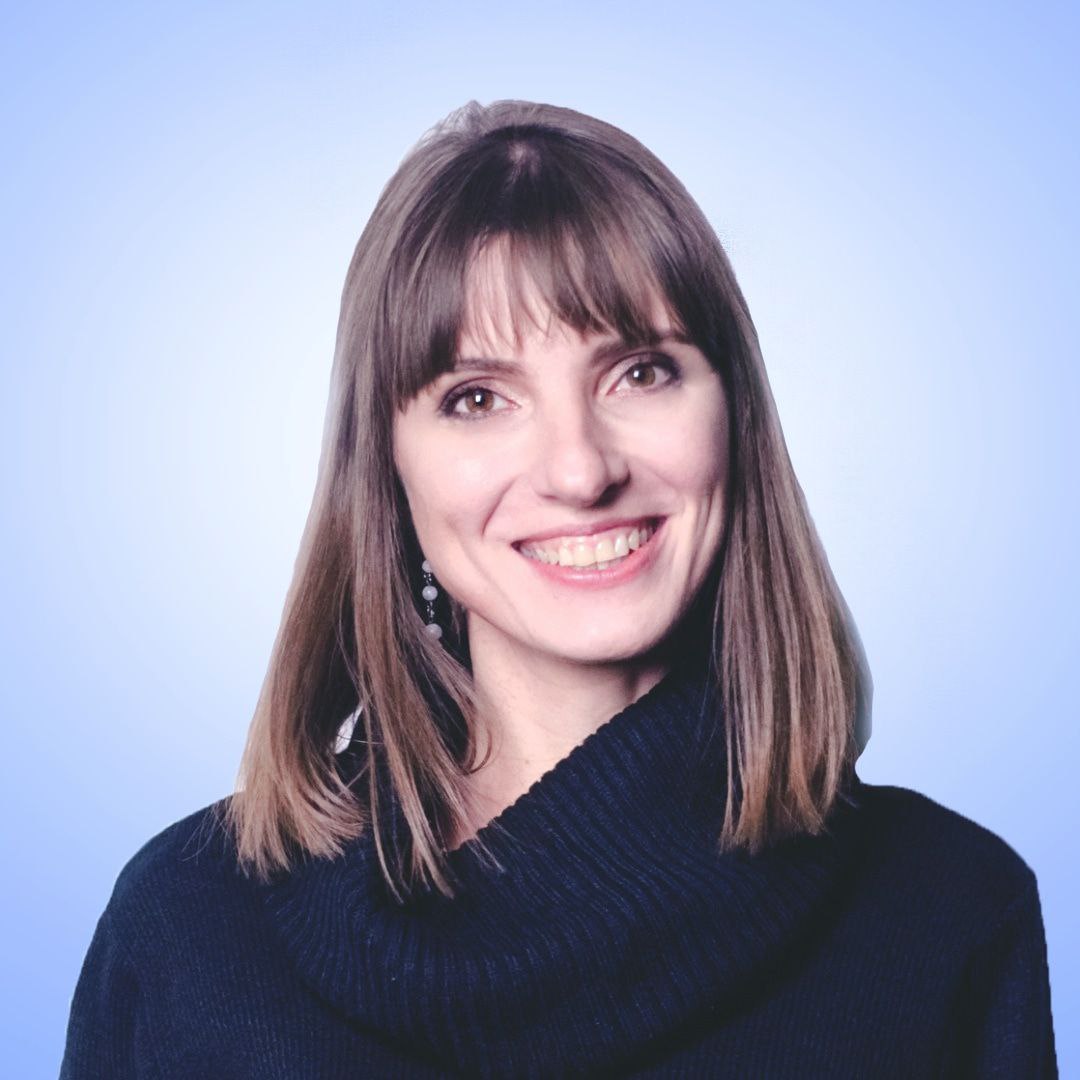 The author specializes in creating understandable and succinct texts and articles. She writes useful blog articles that help you select the right template. The author knows the value of her time and yours, so all texts are concise and informative. She clearly understands for what purposes, and which template is best suited. Thanks to her recommendations, you will select a template for any task within a few minutes.