Card Templates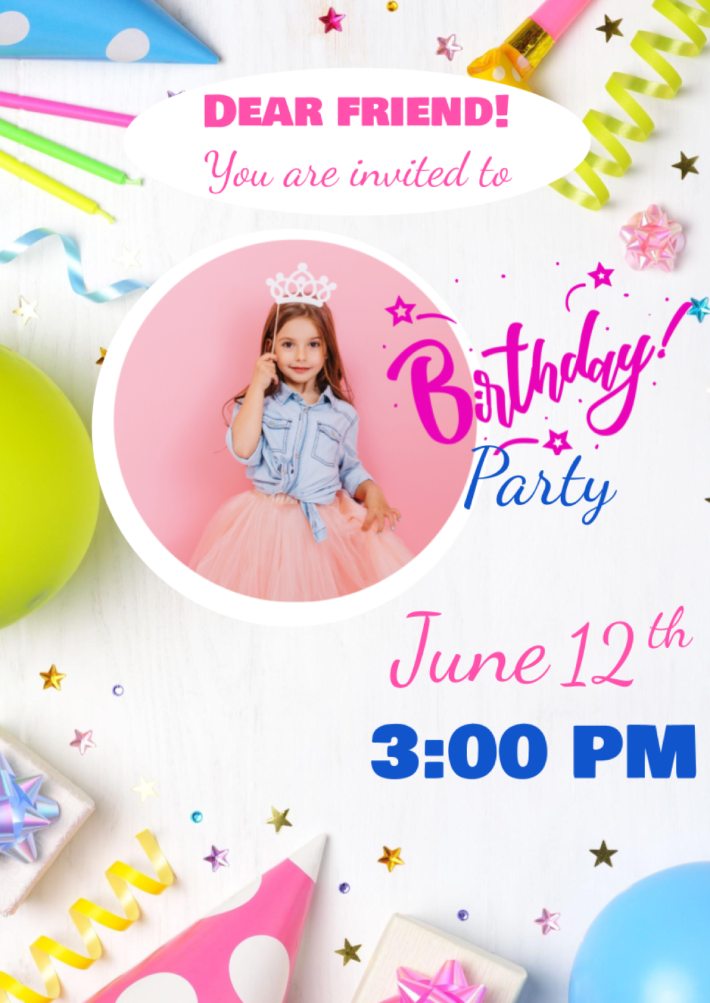 The birthday card template for Google Docs is the easiest way to achieve the desired result having no specific skills and knowledge.
Can I make a half-fold card using the free Google Docs template?
How can I create a 4x6 card in Google Docs or MS Word?
How do I save changes to my Google Docs card template?
Can I add a photo to the Google Docs template?
Printable Card Templates for Google Docs – Free Download, Customize & Share
Do you want to creatively congratulate your friend, mother, or loved one on some holiday or special event? Or perhaps you need to prepare a time card for planning daily or business tasks? Well, we've got a pre-made solution for you! Choose the appropriate card template Google Docs from our collection, download it, and use it for personal and business needs.
Types of Card Templates – for Any Holidays, Events, and Personal Notes
Holidays are always fun, pleasant emotions, and of course, surprises. We believe that no gift can be compared to a personalized postcard made with your own hands. In our catalog, there are Google Docs templates for any occasion: Christmas card, Baby shower card, Mother's day card, and many others are already waiting for their «star time». Save the layout you like to your Google Drive, edit and use whenever you want.
What makes our templates unique? Of course, this is a carefully hand-picked visual concept. Our website contains layouts made in different styles, ranging from minimalistic, simple, and ending with vintage and creative. Be sure you will find a design that will perfectly suit any of your ideas and tasks. The most popular and demanded categories of templates are presented on our platform. In particular, such as:
Greeting card: сreate cards with these free templates that are either blank on the inside or contain text that you can customize.
Index card: there are the perfect pre-made layouts for school, home, office, university, and library.
Birthday card: using these templates, you can create a cool gift in a matter of minutes that will sink into the soul and cheer up the birthday person.
Also, we've layouts to simplify the learning process. In particular, check out the flashcard template Google Docs, which is great for memorizing vocabulary, grammar, and more. To learn more about the benefits of layouts, we suggest you familiarize yourself with some of the template categories and their features.
Greeting Card Template
You will fall in love with these templates! Indeed you will find funny, cute, cartoonish, and minimalistic cards for the New Year, Halloween, Thanksgiving Day, and other holidays. Do you want to surprise your loved one? We've many ideas and templates for such purposes. For example, you can download a Gift Certificate template, a greeting card template, edit them in Google Docs or Microsoft Word as you like, and that's it – the wow gift is ready.
Index Card Template
Who said index cards are a thing of the past? It is a perfect solution for school, home, office, university, and library. For example, you can use the Google Docs index card template to write recipes, notes, fun facts, to-do lists for the day, project monitoring, and more. These layouts are blank inside, without text blocks. Their key feature is pre-graded vertical lines or a grid to fill in the information. For those looking for a 3×5 index card template Google Docs, we've great news! Our library contains templates that can be optimized for any size without loss of quality.
Birthday Card Template
Congratulate your friend, colleague, or originally loved one! Using the Birthday card Google Docs template, you can create a cool gift in a matter of minutes that will sink into the soul and cheer up the birthday person. Our designers have already prepared everything. Download and personalize the template: add the name and photo of the birthday person and write a touching wish. We've not forgotten about children either. In addition to minimalistic, retro templates, you will also find funny Birthday cards with balloons, cartoon characters, and other cute and colorful visuals.
Thank You Card template
There are so many reasons in our life to say to loved ones «Thank you», «You made my day». Why not express gratitude now? By using the thank you card template, you can make your friend, teacher, colleague, family members happy and tell them how much you love and appreciate them. It only takes a few clicks to replace the text in the placeholder. These Google Docs templates include cool fonts, watercolor flowers, cute animals, creative visuals, and more.
Why Should You Download the Card Google Slides Template on Our Website?
The main advantage of our layouts is their ease to use. Thanks to the pre-formatting, you do not need to spend time setting card parameters, preparing it for printing, or sending it by email. Our designers have already done everything!
Looking for 3×5 or 4×6 card templates for Google Docs? You can adapt our layouts to any size, without losing the quality of the image and fonts. Thanks to its use in high resolution, you can print the card both on glossy, matte paper, and on plain sheets of cardboard. The layouts are suitable for work in Google Docs and Microsoft Word.
Features of card templates:
Free card templates for any event. You don't have to surf the web anymore to find a professionally designed template for free with instant download. In our catalog, you will find the perfect template for yourself: Valentine's day card, Halloween card, and more at your disposal. Get inspired!
Layouts are fully customizable. All graphic elements, text blocks, diagrams, icons, images are easily customizable. You can change the background, font, position of objects, and whatever you want.
We're constantly updating our collection of card templates. If you have any questions, please use the «FAQ" section. Here, you will find tips on how to make working with templates for Google Docs even easier. We'll also be very grateful if you tell your friends about our platform or share a link to the site.