Workout Plan Templates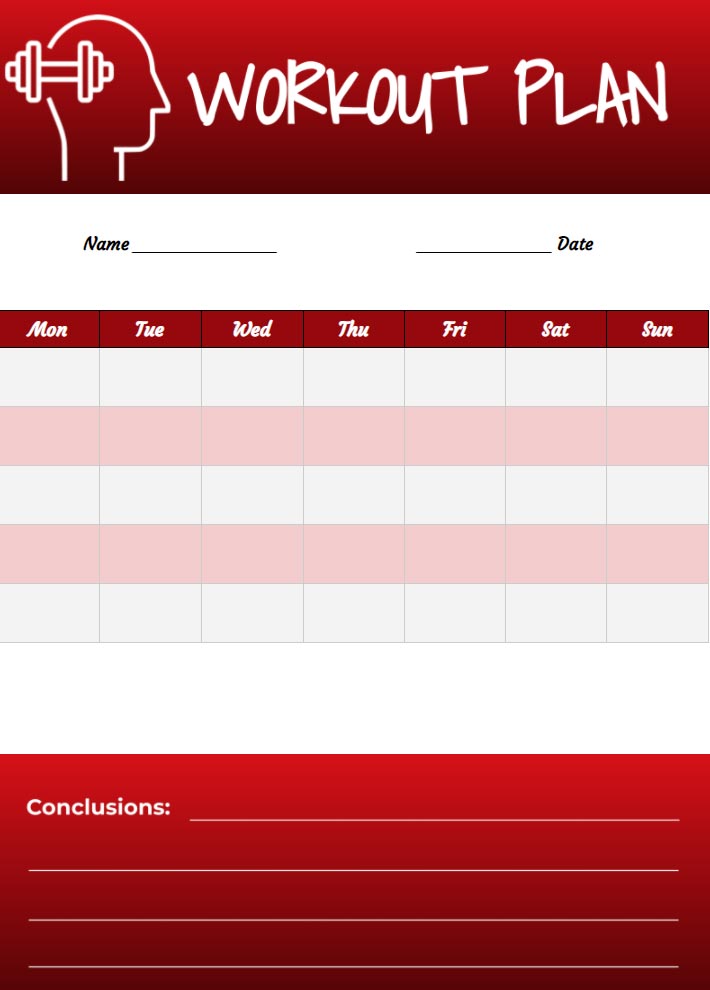 Download our workout plan template for Google Docs to structure your meal menu or training schedule just in minutes.
What are the benefits of the workout planner template Google Docs?
Which workout plan template to choose from?
Can I grant access to my trainer?
Workout Plan Templates for Google Docs
Google's suite of apps, popular with small businesses, education, and startups. You can associate this growing trend with several reasons. Unlike its competitors like Office 365 Essential and Premium, Google Productivity is completely free. The second reason is the seamless sharing and collaboration between colleagues. However, it won't cover all use cases. And this is where templates come into play.
Whether you are a student, salesperson, business owner, or accountant, a variation of Google Docs templates provides a choice for any type of activity. Accessibility is not an issue either, as these apps are web-based and have their iOS and Android apps.
The schedule is an important part of our life. By using schedules, we not only allocate our time, but also reduce stress, measure our progress in getting the job done, and prepare ourselves for unforeseen events.
People are gradually abandoning paper planners and notebooks, paying online for utilities, and buying tickets online. Download dozens of apps for calculating spending and calories for sports and meditation. Workout plan template Google Docs allow you to keep track of calories and plan your workout schedule, daily regimen, and exercise combinations.
A workout template is a saved set of training task settings that you can use when creating new workouts. By saving assignments that you regularly do yourself or schedule for your students to templates, you can introduce new workouts more easily and quickly. Templates help you create workouts much faster. If you often do the same type of workout, save them to a template and save time when planning later.
The combination of these factors allows us to determine the further vector of development, besides, the workout planner template in the event of a trainer/gym change. In particular, it allows a new coach to determine the dynamics of your development and more accurately select a new training program following your progress.
How to Make a Workout Schedule in Google Docs
Different training diaries are created depending on the type of athlete's load profiling. The classic workout plan template involves recording only your results, and it can be done without assistance right during the lesson.
More complex options imply the need to measure anthropometric data, record time, and a huge number of related factors. The workout plan spreadsheet template is often redundant for amateur athletes, but essential for professional athletes. For example, bodybuilders, who must remember not only the number of repetitions and weight but also make sure that the body responds correctly to a new type of training in the long term.
In addition to choosing the best timetable template for your tasks, you will need to decide what print and online sharing options the template will have. Many people print their workout plan template and then hang it on the wall or refrigerator. If we are talking about a planner of a list of tasks to be done or personal appointments and meetings, keep them in their wallet or purse for easy access and use.
If you need guaranteed access to your workout planner template at any time of the day, choose a collaboration solution powered by Google Docs. You need to be able to view and edit your schedule at any time on your smartphone or computer.
Plus, by transferring your workout plan template to Google Docs, you can save a lot of paper. If you plan to share your workout plan spreadsheet with other people, the online tool will help you communicate more effectively and make changes. You will be able to see what has been edited, as well as select the level of rights granted by assigning observer, editor, or administrator rights to users.
The benefits of using Workout templates
Whoever says anything about the benefits of using the workout planner template Google Docs, it is worth remembering that its use and competent management is not only the fixation of results but also the opportunity to systematize the training. And no matter how supporters of "intuitive training" talk about "the need to listen to your body" and work following your well-being, using a diary allows you to systematize training, find a point of error, or determine which complexes the body responds best to in the long term.