Google Docs is a versatile word processing tool that offers many customization options, including the ability to edit margins. Adjusting margins can make your document look more professional and visually appealing. In this post, we'll cover everything you need to know about editing margins in Google Docs.
Why Edit Margins in Google Docs?
The margin is the blank space around the edges of a document. Adjusting the margins can improve readability, give your document a cleaner look, and allow you to fit more content onto a page. Changing the margins is especially important if you plan on printing your document, as it can affect the layout and how much fits on a page.
How to Edit Margins in Google Docs?
To edit margins in Google Docs, follow these simple steps:
1. Open a Google Doc document
To change margins in Google Docs, you first need to open the document you want to edit. You can do this by going to https://docs.google.com/ and selecting a new document or template provided by Google.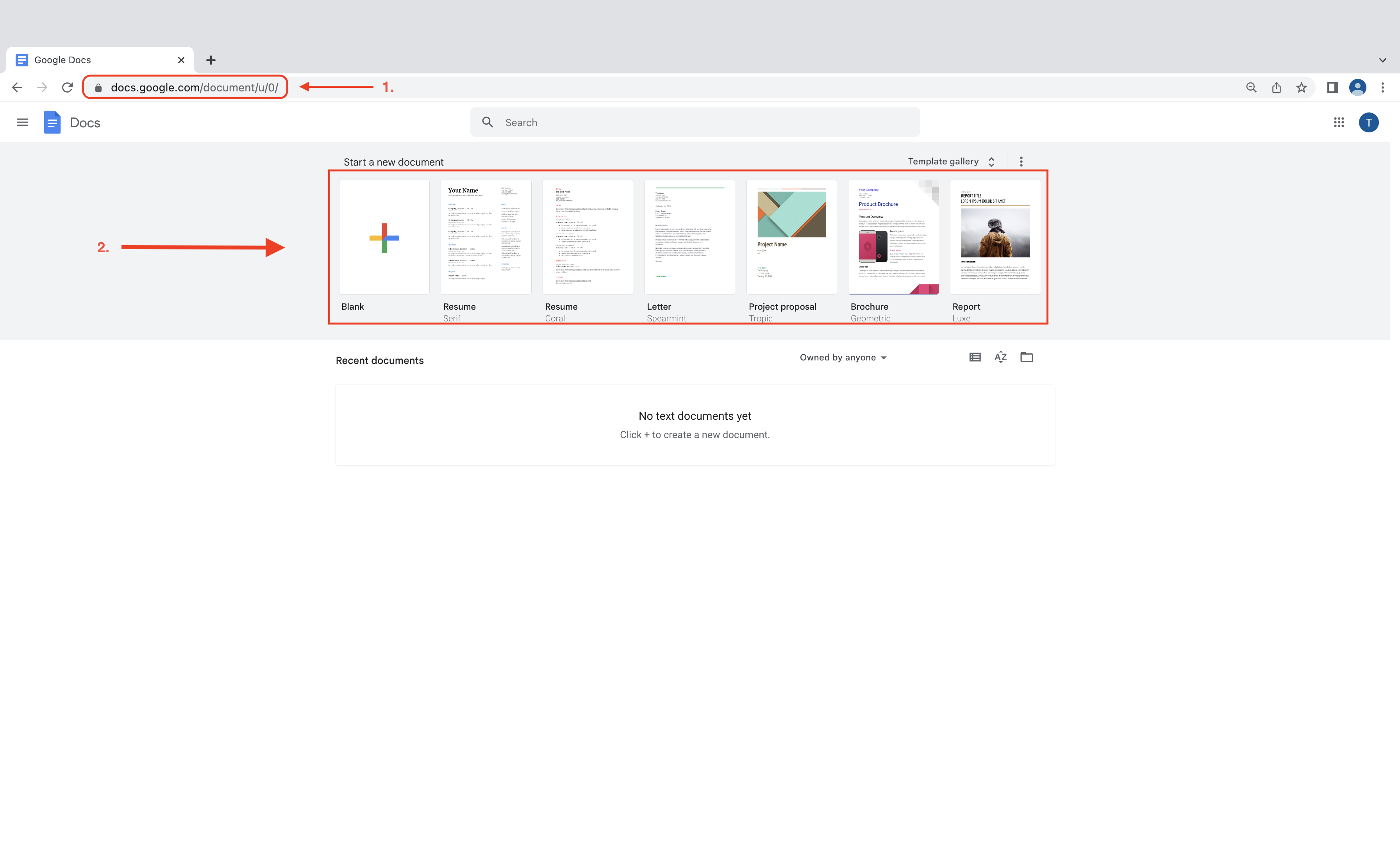 Or take any template from our site for free. Read this article for instructions on how to use our templates.
2. Click "File" in the top left corner of the screen
As soon as you open a document, you will see a menu bar at the top of the screen. Click "File" in the top left corner to access the file menu.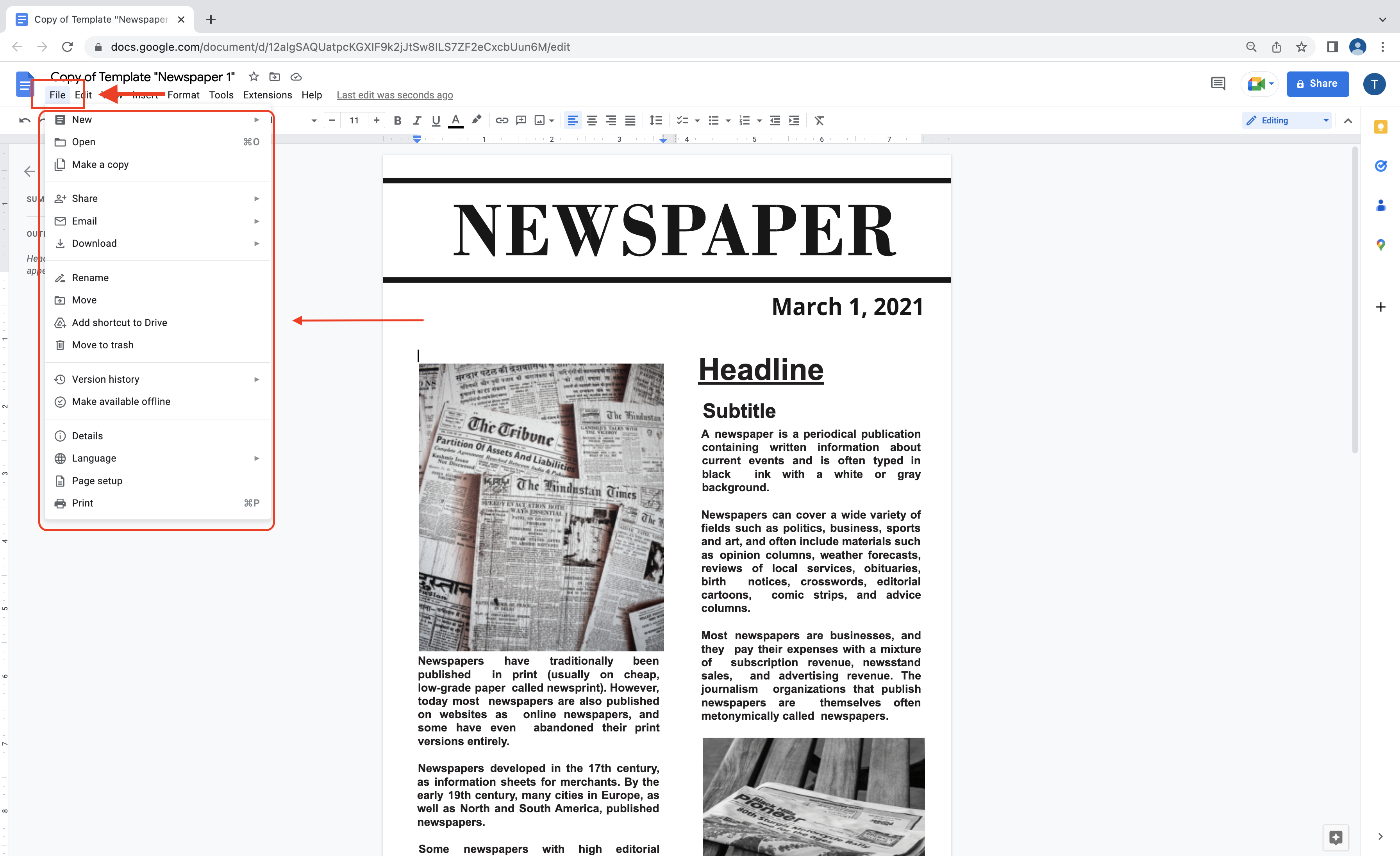 3. Select "Page Setup" from the drop-down menu
In the File menu, you will see a number of options. Find "Page Setup" and select it from the list.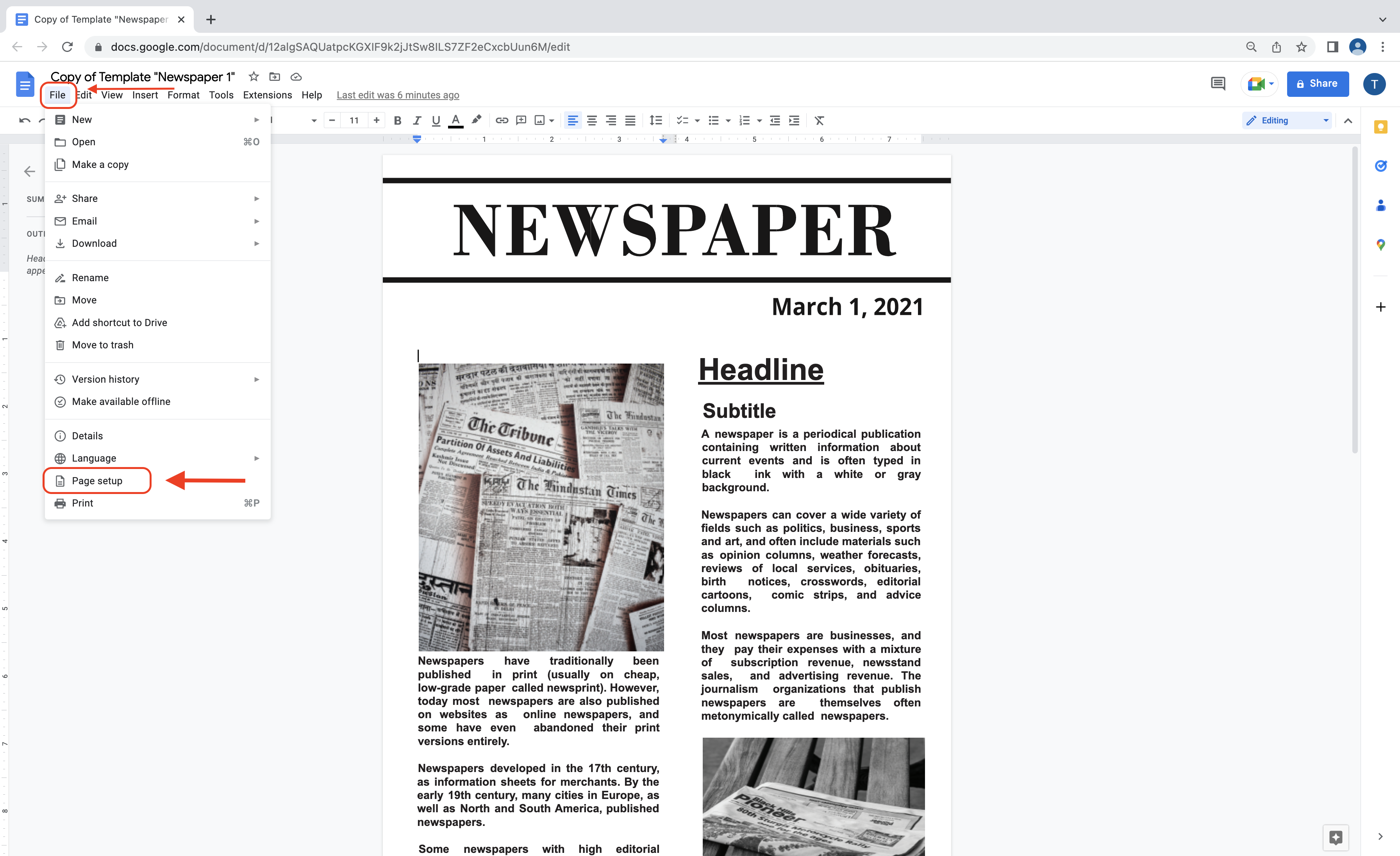 4. In the "Page Setup" dialog box, you can adjust the margins under "Margins"
Once you've selected "Page Setup," a dialog box will appear. In this dialog box, you'll see a section called "Margins." This is where you can adjust the margins for your document.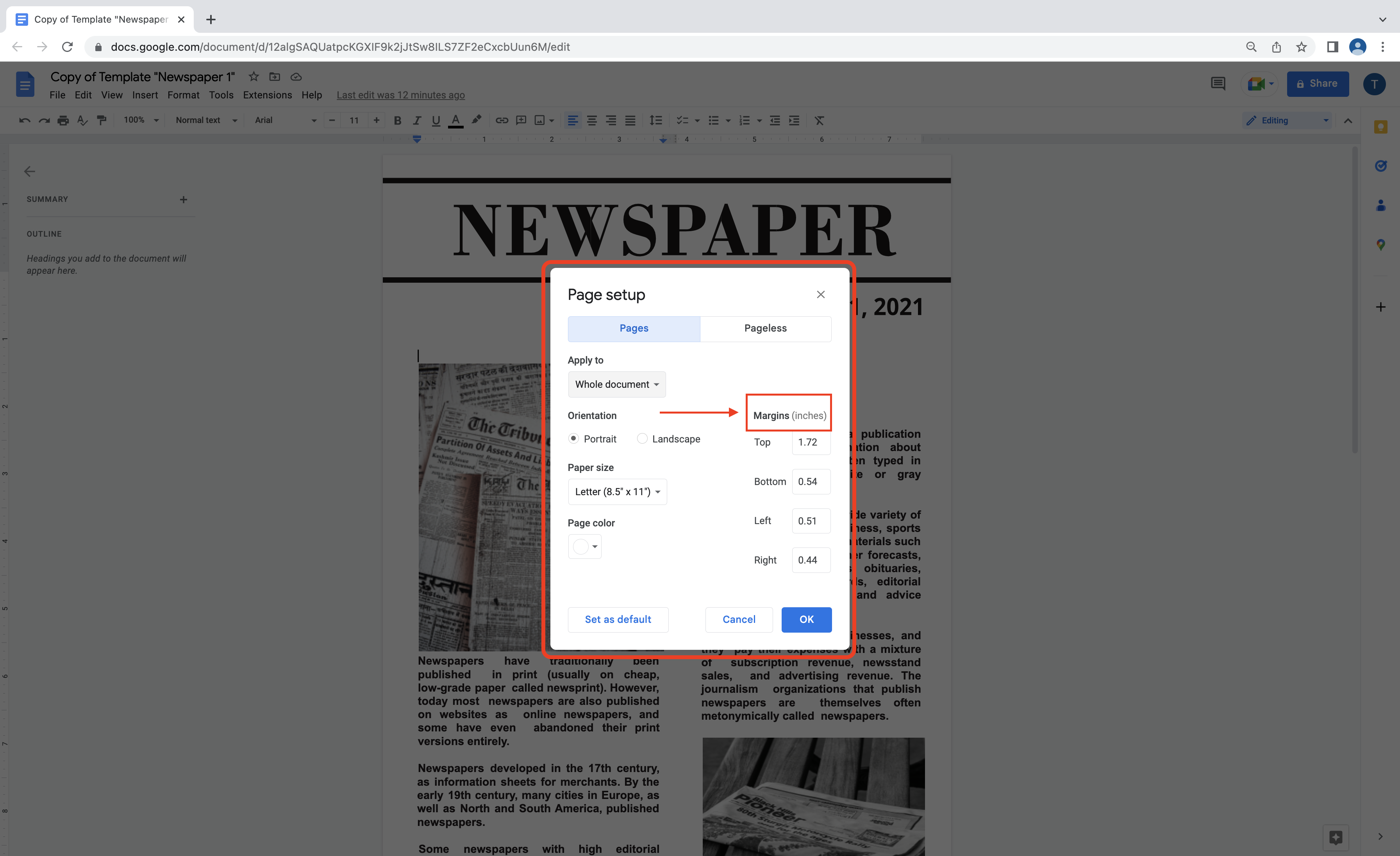 5. Use the arrows to increase or decrease the margin size
To adjust the margins, you can use the arrows next to each margin measurement (Top, Bottom, Left, and Right). Clicking the up arrow will increase the margin size, while clicking the down arrow will decrease it.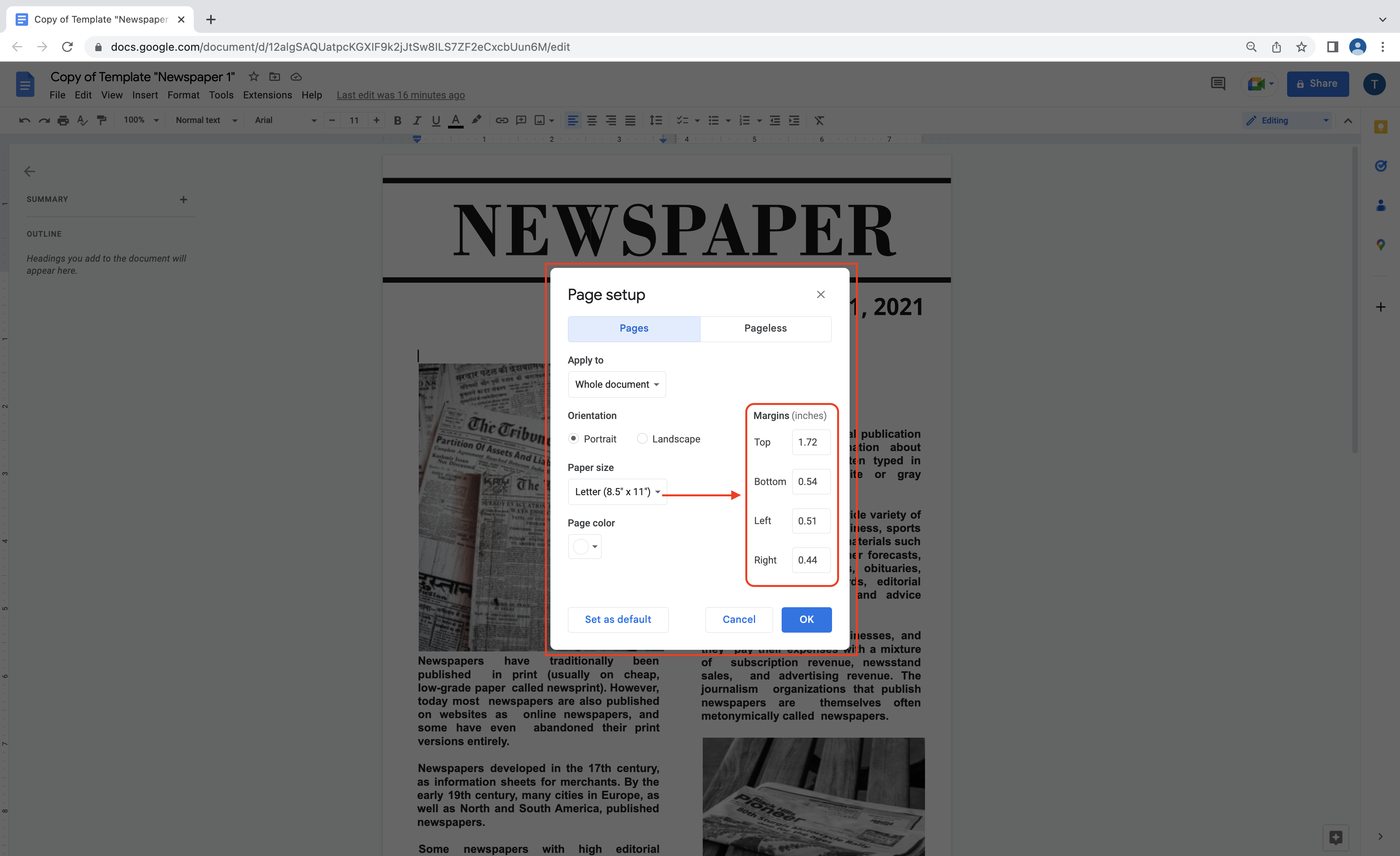 6. You can also set specific margin sizes by entering values in the "Top", "Bottom", "Left", and "Right" fields
If you want to set specific margin sizes, you can enter the values in the corresponding fields next to each margin measurement.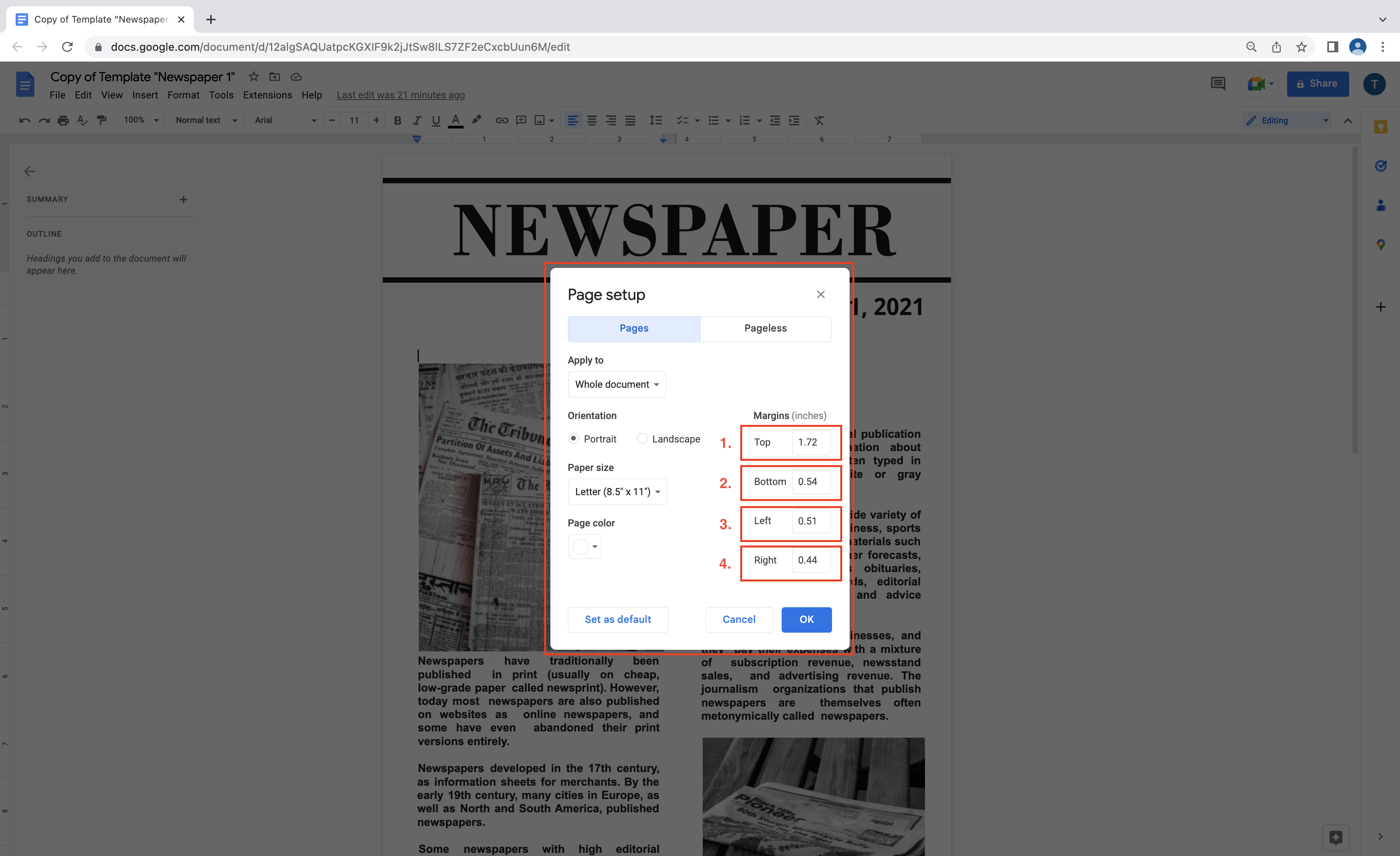 7. Once you've made your changes, click "OK"
After you've adjusted the margins to your liking, click the "OK" button to apply the changes to your document.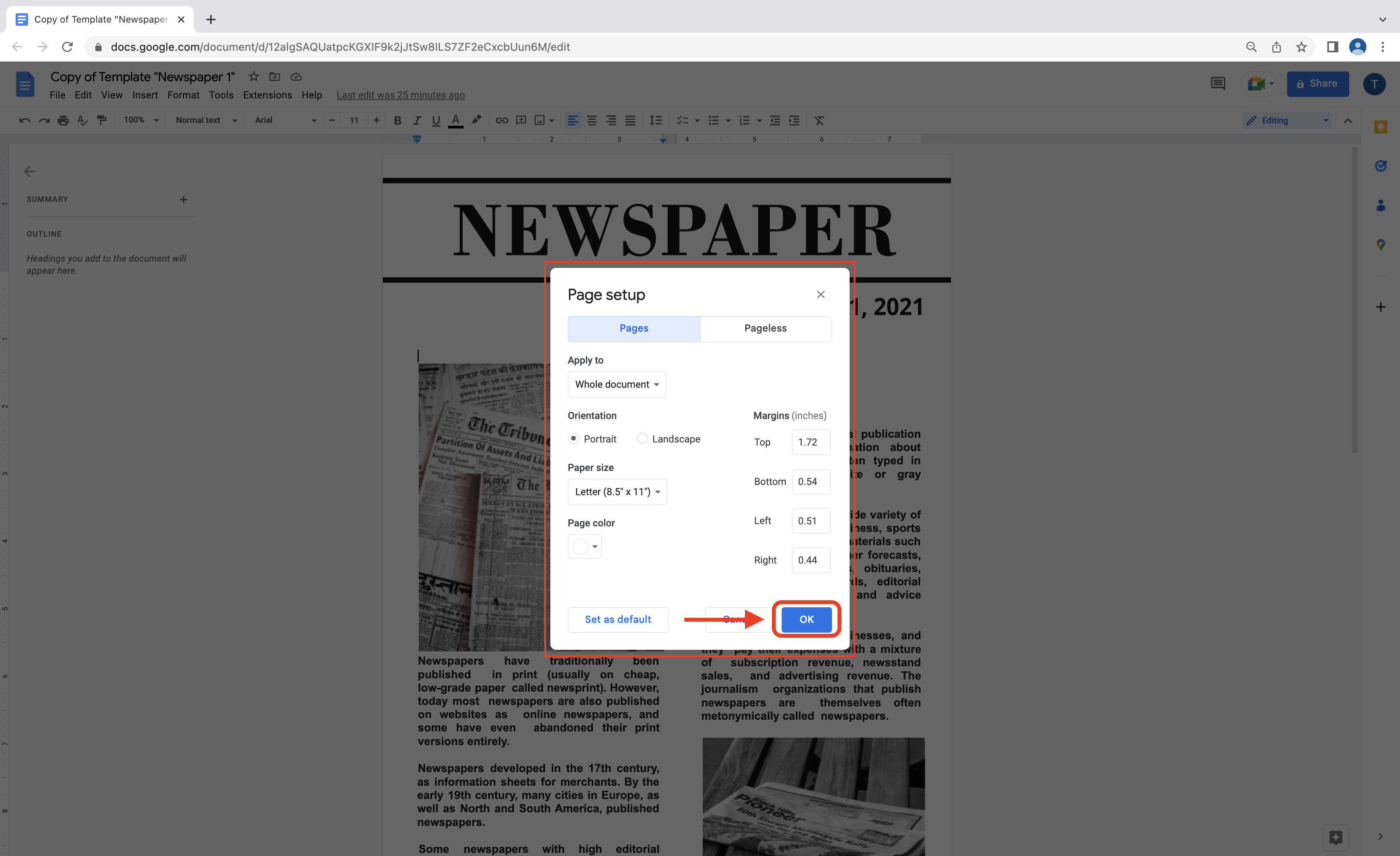 Tips for Editing Margins in Google Docs
Consider the purpose of your document:

Think about the type of document you are creating and the audience it is intended for. For example, a report or essay may require larger margins to provide room for comments or notes, while a brochure or flyer may need smaller margins to fit more content on a page.

Use the default margins:

Google Docs provides preset margin sizes that are appropriate for most types of documents. Unless you have a specific reason for changing them, it is best to stick with the default margins.

Don't make your margins too small:

Although reducing the margins may allow you to fit more content on a page, it can also make your document look cluttered and unprofessional. Stick to a margin size that is appropriate for your document.

Use web resources:

If you are unsure about what margin size to use, there are many online resources that can help. For example, you can search for articles or blogs that provide tips and guidelines for margin sizes in different types of documents.
By following these tips, you can enhance the readability and visual appeal of your document by adjusting the margins in your Google Docs file.
In conclusion, editing margins in Google Docs is an essential skill that can improve the overall appearance and readability of your document. By using the step-by-step guide we provided, along with our helpful tips, you can create a polished and professional document with ease.
If you're looking for additional resources to enhance your Google Docs experience, be sure to check out docsandslides.com. You can find useful information and templates on various topics, including booklet templates and lesson plans, to take your document creation to the next level.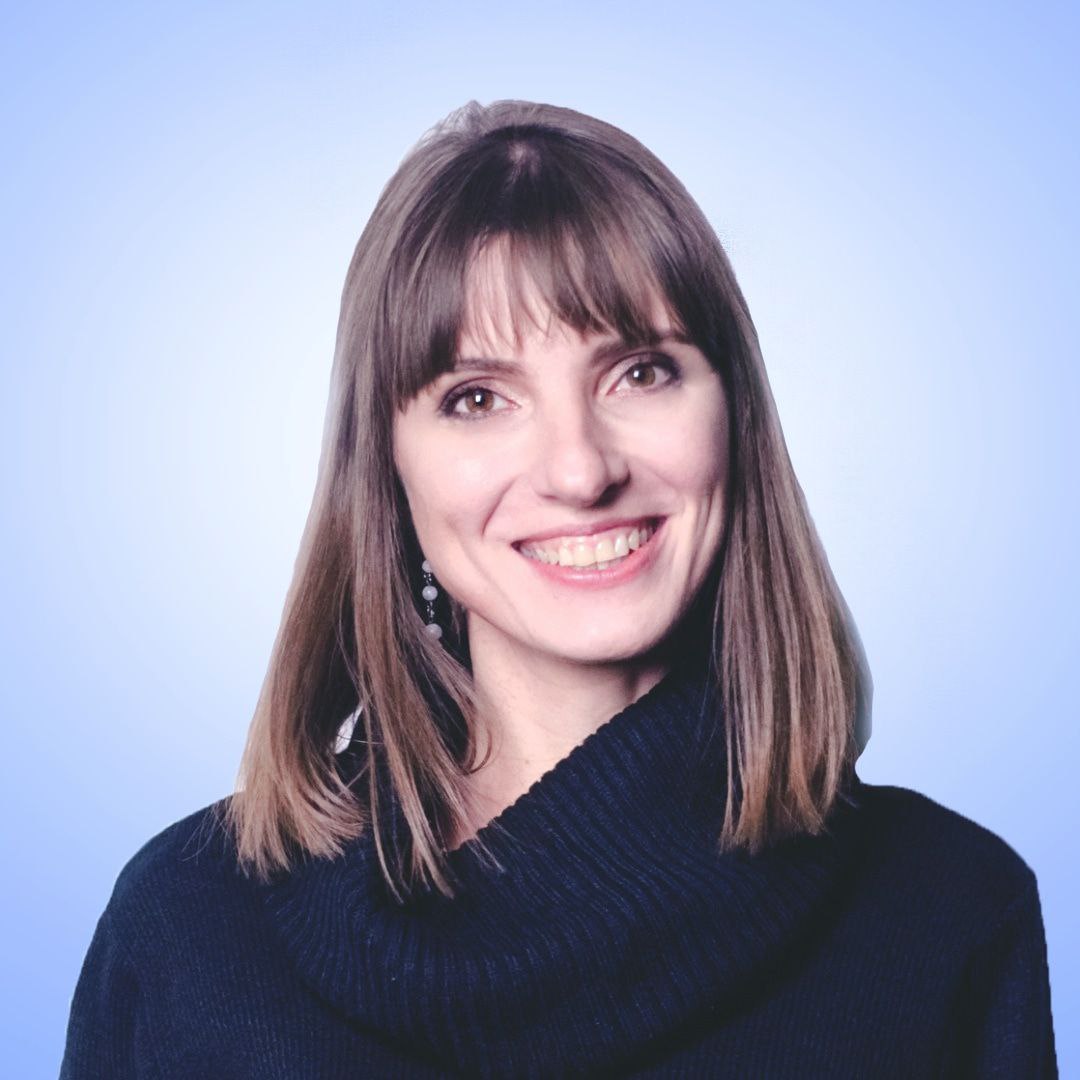 The author specializes in creating understandable and succinct texts and articles. She writes useful blog articles that help you select the right template. The author knows the value of her time and yours, so all texts are concise and informative. She clearly understands for what purposes, and which template is best suited. Thanks to her recommendations, you will select a template for any task within a few minutes.