The preparation of a lesson plan is a complex and multilevel process requiring a lot of effort and maximum concentration. Every study hour should benefit students. The use of lesson templates for Google Slides can become a great basis for the development of the curriculum for all lessons.
The template can turn into an integral part of your teaching profession. It provides you with an opportunity to save a lot of time and effort needed to create a perfect plan for the educational process. The template has a perfect structure to give a chance to pay attention to all details of the academic materials.
The presence of the neutral design is a prerequisite to use it for any kind of the educational areas and categories of the students. The lesson template for Google Slides has all necessary options for the process of editing as a part of the development of a perfect presentation for the students and colleagues. The process related to the creation of the slides will give you a chance to obtain:
Invaluable experience needed for the further development in this area
New skills
Inspiration for the further achievements
The template demonstrates no limitations and restrictions. You can be as creative as possible during the process of the creation of visual materials. It is your chance to obtain maximum audience trust and attention. It will express a desire to follow a unique style of slide making.
The use of the online documents will provide you with a wide range of opportunities and abilities necessary to achieve the desired goals during the process of the communication with the audience. The lesson plan templates for Google Slides will solve the issue occurring during the creation of the presentation. It is your way to get to the next level in your professional career.
How to use this template ?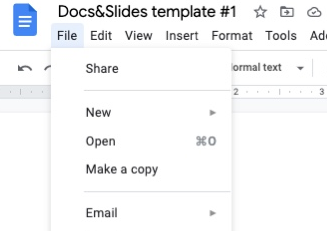 Lesson Template
Сhoose your format:
Google Slides
Microsoft Word