Invoice Template for Companies
Any company needs to issue various invoices, even if one works as a freelancer. But sometimes you can get confused with a list of products or tasks completed, this is where the Invoice Templates for Google Docs can help you organize your finances. In this template, every detail of the sender and recipient is given its due importance. When it comes to spreadsheets, you have columns like these to easily fill in product information, description, price, amount and sales tax.
You can always customize your Google Docs invoice template for companies according to your needs. For example, if the template doesn't have the column you want, you can easily add it. To do this, right-click on the table and select Insert or Delete Column. Similarly, if you don't like the aesthetics of the template, such as its color or font, you can also customize it using the options provided in the toolbar at the top.
You can create company invoices not only using templates in Google Docs, but also automatically generate invoices based on the data, which will save you a lot of time.
How to use this template ?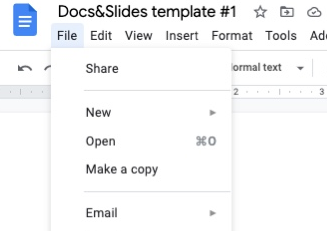 Invoice Template for Companies
Related templates
Hourly Invoice Template

The hourly invoice template for Google Docs can save your time on this routine process without the help of outsourcing specialists.

Sample Invoice Template

The sample invoice template for Google Docs can give you an opportunity to obtain new skills for the accounting documents of any complexity.

Self Employed Invoice Template

The use of the self-employed invoice template for Google Docs is a great chance for the specialists to devote more time to basic work processes.
Сhoose your format:
Google Docs
Microsoft Word