Super Simple Invoice Template
The minimum amount of detail and concentration on the main nuances represents a prerequisite for the organization of the productive working process. The same approach can increase the level of comprehensibility of any document. The super simple invoice template for Google Docs is a perfect format of the document involving only crucial points and significant details. The primary benefits of this type of the template implies:
easy way to create document requiring no specific skills and knowledge
understandable for the client without additional clarification
minimum time for its formation
Did you ever get tired of having a lot of unnecessary options?! Furthermore, you face the need to understand them to choose the most necessary. This process can take a lot of time and effort. The use of a super simple invoice template for Google Docs can solve this issue by offering a minimum number of points to fill out the document. At the same time, such an invoice has the correct structure and all the necessary information to receive payment from the client. Invoice templates for Google Docs involves the details to meet the generally accepted legal requirements to complete cooperation with the client successfully. You can use these invoices for any types of activities in different business areas.
This approach can increase the efficiency and productivity of working processes by turning into a prerequisite for the emergence of the specific competitive advantage in the form of a thoughtful method to develop customer focus. You should not give up the benefits of innovative technologies providing you with an opportunity to save time creating invoices with the minimum number of details and options. You will obtain a chance to pay attention to the main directions of business development by avoiding high workload associated with paperwork.
How to use this template ?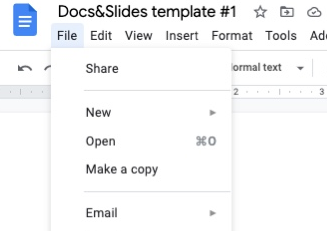 Super Simple Invoice Template
Related templates
Hourly Invoice Template

The hourly invoice template for Google Docs can save your time on this routine process without the help of outsourcing specialists.

Sample Invoice Template

The sample invoice template for Google Docs can give you an opportunity to obtain new skills for the accounting documents of any complexity.

Self Employed Invoice Template

The use of the self-employed invoice template for Google Docs is a great chance for the specialists to devote more time to basic work processes.
Сhoose your format:
Google Docs
Microsoft Word