Aesthetic Layout Cute Template
A topic presentation is an electronic document that includes a set of slides designed to demonstrate the outcomes of specific research. The aesthetic layout cute template for Google Slides can provide all of the users with an opportunity to create the presentations with the perfect design. The templates have a wide range of the advantages including:
Different options for editing
Creative design
Well-thought-out structure
Nuances to increase the level of audience's involvement in the presentation
The aesthetic layout cute template for Google Slides is the best way to obtain the desired results that can:
Take your business to the next level of the development
Improve academic performance
Publish the results of scientific research
Designing an attractive and beautiful presentation can be challenging if you are not a designer. It's even harder to design a presentation for your startup knowing that you'll be addressing investors and standing in front of an audience at an important business meeting. However, the templates can solve this issue by providing you with the necessary tools and visual materials to achieve the desired goals.
First of all, you should never underestimate the power of powerful photography in the presentation projects. A photograph is a powerful tool for visually presenting your message. Whether it's emotional photos of an impressive message, beautiful product photography to convince you of its value, or vibrant visuals to enhance boring slides, photography is useful in many situations.
The same situation occurs with the infographics that can show the outcomes of the research through the use of the most convenient method. Contrast is a detail to keep in mind when designing presentations. It can increase the audience's level of interest in the files and visual materials.
How to use this template ?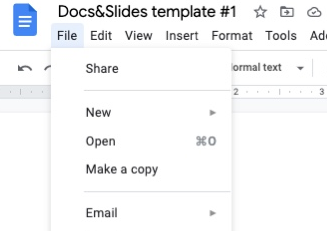 Aesthetic Layout Cute Template
Сhoose your format:
Google Slides