Recipe Halloween Template
It's hard to imagine a Halloween celebration without scary treats. It's good to have a free Halloween recipe template at hand. You can use it to record your favorite recipes, create a cookbook, or post on social media.
Unleash your creativity with this Halloween template for Google Docs! Everything you need to write a recipe is here: step-by-step instructions, ingredients, images. Don't stop at pumpkin pie as there are so many traditional holiday treats. Thanks to its versatile design, you can adapt this layout to suit any appetizers, main dishes, desserts, and more. Such dishes will fly right off the plate!
Customize the recipe template for Google Docs just the way you like: add your own descriptions, photos of ingredients, Halloween illustrations such as zombies, bats, pumpkins, and more. Get creative! Here any visual and graphic elements can be edited: you can change the size and color of the font, increase the title, move text blocks, and more.
This template is perfect for making Halloween recipes printable or digital cards. Download the layout and use it however you like. Do you want to share your recipe with others? You can convert recipe templates for Google Docs to a PDF file and send it to your friends by email or publish it in a culinary blog.
How to use this template ?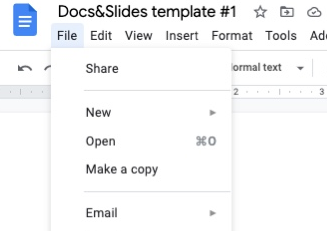 Recipe Halloween Template
Сhoose your format:
Google Docs