Flyer Halloween Party Template
Booooo! Halloween night is coming. Download the free Halloween flyer template for Google Docs to create awesome invitation brochures and surprise your guests. Personalize, print, and share these fantastic flyers with your friends, loved ones, or colleagues. They will love it!
Do you want to invite guests to a scary haunted or zombie house? Or maybe you want to throw a fun party for the kids? No problem. This Halloween flyer template is multi-purpose: it has a versatile design and is suitable for any costume party. Pumpkins, autumn leaves, mountain ash on a dark background look a little mystical. It is what you need to create a Halloween mood!
You will have fun editing flyer Google Docs templates. It's so easy to customize! Use text blocks for the details of the party: specify the theme of the Halloween party, the conditions of the costume contest, the time and place of the horror night. You can also change the font, title color, and the position of the main text. Let your creativity flow!
This template has an A4 size. Thanks to the pre-formatting, the Halloween flyer Google Docs template can be re-sized to any format, including 8.5x11, 8.3x5.8, or 5.8x4.1. You can print your flyer or post it on social media. Happy Halloween night!
How to use this template ?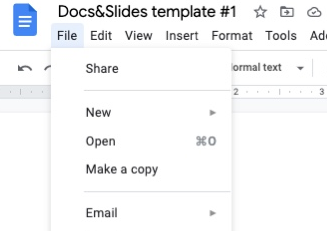 Flyer Halloween Party Template
Related templates
Black Friday Flyer Template

Everyone loves discounts! With the Black Friday sale flyer, you can get buyers interested and hit a big jackpot on this special day!

Flyer Black Friday Sale Template

You no longer need to search the search engine for the request "flyer Black Friday sale template download"! You can adapt this template for the promotion.
Сhoose your format:
Google Docs