Freelance Invoice Template
Have you ever worried about the need to perform complex accounting manipulations representing an integral part of any business activities?! Furthermore, these thoughts and experiences could become the primary motivation to allocate additional funding for the work of an accountant or financier. You can forget about these issues with the use of freelance invoice template for Google Docs. The online resource with these templates can provide you with a wide range of additional opportunities helping you to manage finances correctly. The benefits of these templates involve such options as fast formation of invoices without:
the use of the specific knowledge and experience
long period of time and effort
the help of outsourcing specialists
additional financial expenses
Your clients will obtain the invoices based on generally accepted financial requirements. The freelance invoice template for Google Docs will turn into an essential part of all your business process as the main method to save time. The development of this kind of document will take a few minutes without interfering with the main work process. This point is especially significant when it comes to the timely payment for prompt delivery of products and provision of services. At the same time, freelance work mode does not imply a large number of employees performing different functions.
One specialist should show a high level of productivity. You will no longer need to wait for a response from an outsourcing specialist to generate an invoice. At the same time, you can save financial resources on hiring such a full-time specialist by performing his functionality without special skills and the need to pass specialized training. These invoice templates for Google Docs can turn into your personal way to increase the efficiency of the workflow by simplifying the execution of certain tasks aimed at the formation of the invoices. Do not lose your chance to use the benefits of innovative technologies for the improvement of your business.
How to use this template ?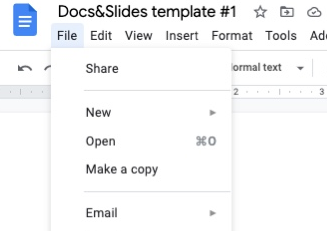 Freelance Invoice Template
Related templates
Hourly Invoice Template

The hourly invoice template for Google Docs can save your time on this routine process without the help of outsourcing specialists.

Sample Invoice Template

The sample invoice template for Google Docs can give you an opportunity to obtain new skills for the accounting documents of any complexity.

Self Employed Invoice Template

The use of the self-employed invoice template for Google Docs is a great chance for the specialists to devote more time to basic work processes.
Сhoose your format:
Google Docs
Microsoft Word